Stream
Strigolactones: Biological Roles and Applications
Tipologia
Progetti europei
Programma di ricerca
COST Action
Periodo
01/06/2013 - 11/04/2017
Coordinatore
Prof. Cristina Prandi
Aree / Gruppi di ricerca
Partecipanti al progetto
Prandi Prof. Cristina

(Coordinatore)
Descrizione del progetto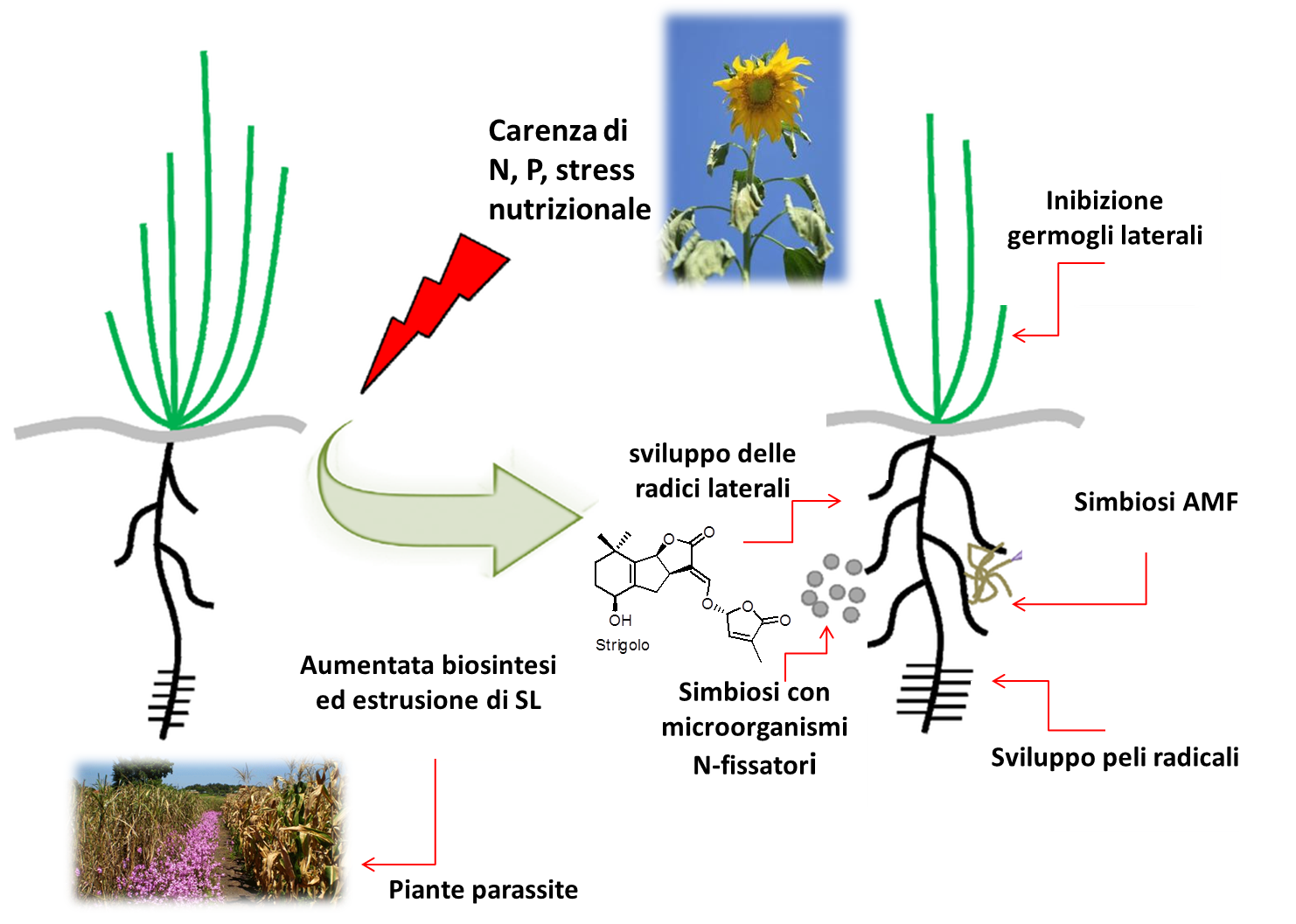 Strigolactones (SLs) are newly discovered phytohormones that contribute to define plant morphology, also in response to environmental conditions, and to the dialogue with organisms in the rhizosphere. As a consequence, SLs have become a cutting-edge topic in plant biology and agronomy, having a great potential in modern agriculture.
However, little is known about how they act, their biosynthesis and signaling pathways. Because of their both endogenous and exogenous role as signaling molecules, SLs are well placed to mediate both adaptive changes in the plant architecture and beneficial rhizosphere interactions. Even though SLs are a prime interest for many laboratories across disciplines, there are no official networks neither in Europe nor in the rest of the world on this subject.
An outcome of an EU network on this subject would be sustaining and promoting the EU leadership in SLs-related sciences, the coordination of SLs research activities and a transfer of knowledge which may lead to the development of targeted and sustainable agro-technologies.
The aim of this proposal is the creation of such multidisciplinary network of experts, of both basic and applied sciences, who can share expertise through the flexibility of the COST framework.
Risultati e pubblicazioni
Kumar M, Pandya-Kumar N, Dam A, Haor H, Mayzlish-Gati E, Belausov E, Wininger S, Abu-Abied M, McErlean CS, Bromhead LJ, Prandi C, Kapulnik Y, Koltai H. (2015) Arabidopsis response to low-phosphate conditions includes active changes in actin filaments and PIN2 polarization and is dependent on strigolactone signalling. Journal of experimental botany 66(5) 1499-510 [DOI PMID]
Pollock CB, McDonough S, Wang VS, Lee H, Ringer L, Li X, Prandi C, Lee RJ, Feldman AS, Koltai H, Kapulnik Y, Rodriguez OC, Schlegel R, Albanese C, Yarden RI. (2014) Strigolactone analogues induce apoptosis through activation of p38 and the stress response pathway in cancer cell lines and in conditionally reprogrammed primary prostate cancer cells. Oncotarget 5(6) 1683-98 [PMID]
Prandi C, Ghigo G, Occhiato EG, Scarpi D, Begliomini S, Lace B, Alberto G, Artuso E, Blangetti M. (2014) Tailoring fluorescent strigolactones for in vivo investigations: a computational and experimental study. Organic & biomolecular chemistry 12(18) 2960-8 [DOI PMID]
Oppedisano A, Prandi C, Venturello P, Deagostino A, Goti G, Scarpi D, Occhiato EG. (2013) Synthesis of vinylogous amides by gold(I)-catalyzed cyclization of N-Boc-protected 6-alkynyl-3,4-dihydro-2H-pyridines. The Journal of organic chemistry 78(21) 11007-16 [DOI PMID]
Blangetti M, Rosso H, Prandi C, Deagostino A, Venturello P. (2013) Suzuki-miyaura cross-coupling in acylation reactions, scope and recent developments. Molecules (Basel, Switzerland) 18(1) 1188-213 [DOI PMID]
Cohen M, Prandi C, Occhiato EG, Tabasso S, Wininger S, Resnick N, Steinberger Y, Koltai H, Kapulnik Y. (2013) Structure-function relations of strigolactone analogs: activity as plant hormones and plant interactions. Molecular plant 6(1) 141-52 [DOI PMID]
Prandi C, Rosso H, Lace B, Occhiato EG, Oppedisano A, Tabasso S, Alberto G, Blangetti M. (2013) Strigolactone analogs as molecular probes in chasing the (SLs) receptor/s: design and synthesis of fluorescent labeled molecules. Molecular plant 6(1) 113-27 [DOI PMID]
Gaiji N, Cardinale F, Prandi C, Bonfante P, Ranghino G. (2012) The computational-based structure of Dwarf14 provides evidence for its role as potential strigolactone receptor in plants. BMC research notes 5 307 [DOI PMID]
Pollock CB, Koltai H, Kapulnik Y, Prandi C, Yarden RI. (2012) Strigolactones: a novel class of phytohormones that inhibit the growth and survival of breast cancer cells and breast cancer stem-like enriched mammosphere cells. Breast cancer research and treatment 134(3) 1041-55 [DOI PMID]
Rosso H, De Paolis M, Collin VC, Dey S, Hecht SM, Prandi C, Richard V, Maddaluno J. (2011) One-pot regio- and stereoselective synthesis of alpha'-methoxy-gamma-pyrones: biological evaluation as mitochondrial respiratory complex inhibitors. The Journal of organic chemistry 76(22) 9429-37 [DOI PMID]
Blangetti M, Deagostino A, Gervasio G, Marabello D, Prandi C, Venturello P. (2011) Superbase promoted synthesis of dienamides as useful intermediates for the synthesis of alpha-ketoamides, gamma-lactams and cyclic imino ethers. Organic & biomolecular chemistry 9(7) 2535-8 [DOI PMID]
Blangetti M, Croce G, Deagostino A, Mussano E, Prandi C, Venturello P. (2011) Asymmetric synthesis of ethoxydienamines in superbasic medium mediated by chiral sulfinyl group. The Journal of organic chemistry 76(6) 1814-20 [DOI PMID]
De Paolis M, Rosso H, Henrot M, Prandi C, d'Herouville F, Maddaluno J. (2010) A concise route to alpha'-methoxy-gamma-pyrones and verticipyrone based upon the desymmetrization of alpha,alpha'-dimethoxy-gamma-pyrone. Chemistry (Weinheim an der Bergstrasse, Germany) 16(37) 11229-32 [DOI PMID]
Deagostino A, Prandi C, Tabasso S, Venturello P. (2010) The Heck reaction applied to 1,3- and 1,2-unsaturated derivatives, a way towards molecular complexity. Molecules (Basel, Switzerland) 15(4) 2667-85 [DOI PMID]
Bhattacharya C, Bonfante P, Deagostino A, Kapulnik Y, Larini P, Occhiato EG, Prandi C, Venturello P. (2009) A new class of conjugated strigolactone analogues with fluorescent properties: synthesis and biological activity. Organic & biomolecular chemistry 7(17) 3413-20 [DOI PMID]
Blangetti M, Deagostino A, Prandi C, Tabasso S, Venturello P. (2009) LIC-KOR-promoted synthesis of alkoxydienyl amines: an entry to 2,3,4,5-tetrasubstituted pyrroles. Organic letters 11(17) 3914-7 [DOI PMID]
Note
il progetto sul sito di COST
http://www.cost.eu/COST_Actions/fa/FA1206